Peking University, June 11, 2020:
Recently, the research team of Professor Wang Zhaoxia and Professor Yuan Yun from the Department of Neurology of Peking University First Hospital (PKUFH) has made a significant breakthrough in the etiology of hereditary neuromuscular diseases. Their finding has determined for the first time in the world that the abnormal amplification of GGC in the 5'UTR region of GIPC1 gene is related to the pathogenesis of OPDM. Through ONT Promethion, the team analyzed the methylation of GGC repeat and through RNA-seq analyzed the differentially expressed genes in skeletal muscle of GIPC1 mutation patients, and discussed the possible pathogenesis of the disease.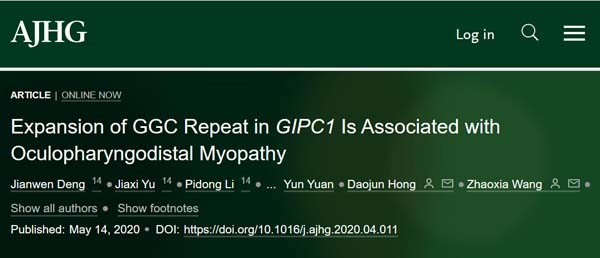 On May 14, their research findings were published online in the form of article in The American Journal of Human Genetics, a leading journal in the field of genetics under Cell Press.