Peking University, April 18, 2021: At Peking University there is an aged scholar who enjoys eating hamburgers, drinking Coca-Cola, appreciating beautiful campus scenery, and stealing time from the restful night to continue his unfinished work. This renowned professor is none other than Xu Yuanchong, an accomplished professor winning the highest award in the field of translation, promoting communication among China, the U.K., and France, while striving to translate the complete works of Shakespeare. Today is his 100th birthday, this article is devoted to outlining the splendor of his 100 years.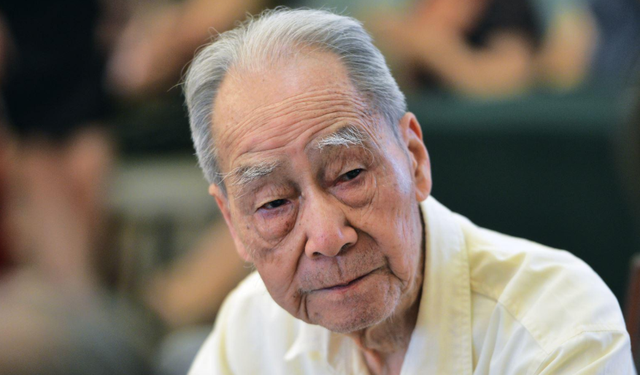 Xu Yuanchong
Stealing Time from the Restful Night
In an old building in Changchun Garden, a yellow light often disperses from the cozy warmth of an illuminated window into the cold and dark wee hours of the night. Behind the window Xu Yuanchong stares at his computer screen, working from 10 o'clock in the evening to three or four o'clock in the morning. For him, the tranquil night is the golden time of translation.

Some of Xu's translation works
Seven-hours of work in front of a computer every day is an almost unbearable task for young adults; surprisingly this 100-year-old scholar is never bored with his work, passionately typing his translations word by word, day after day. Every night, with books lying open on his desk, Xu dives deep into the marvelous world of languages; dancing back and forth between lines of a play or poem, with a glance from his eyes still conveying vitality, sympathy, and passion. "How can we prolong the daytime? The answer is to steal some time from the restful night." Xu said.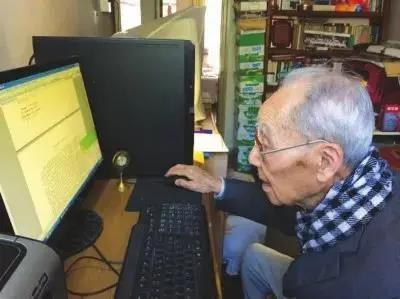 Xu working with his computer
Having Confidence but Never Arrogance
In February of 2017, Xu Yuanchong participated in a program named "The Reader" as an invited guest. 96 years old at that time, Xu slowly walked onto the stage with help of a cane and handed over a name card to the hostess, upon which is written the sentence — "The One who writes hundreds of books sold at home and abroad, and translates Chinese poetry into English and French"(斜体). Upon hearing this sentence, the audience seemed to be surprised by his seeming arrogance, but he immediately reaffirmed "I only speak truth"(斜体) with his firm and passionate voice resonating over the stage.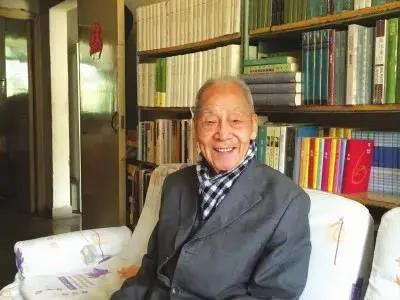 Xu in front of his bookshelf
Xu's excellent translations between Chinese and French as well as Chinese and English are recognized around the world and regarded as his great achievements. Currently, he is still advancing his career, and readers will certainly see his new published translation works in the near future.
Loving Beyond Time
Xu Yuanchong stepped into marriage with Zhao Jun in 1959. Newly married and separated by long distance, they charged their letters with profound love; gradually growing older, the two often strolled around Weiming Lake hand in hand, while Xu often, with ebullient spirit, recited his translation of Zhao Jun's favorite poem.
For almost 60 years, Zhao Jun took care of Xu's life and supported his career. Walking in heavy rain or scorching sun, she always held an umbrella that also served the purpose of protecting Xu's romantic spirit and talent from the outer world. She would accompany him eating a hamburger and drinking Coca-Cola in the cloudless yet peaceful world under their small umbrella.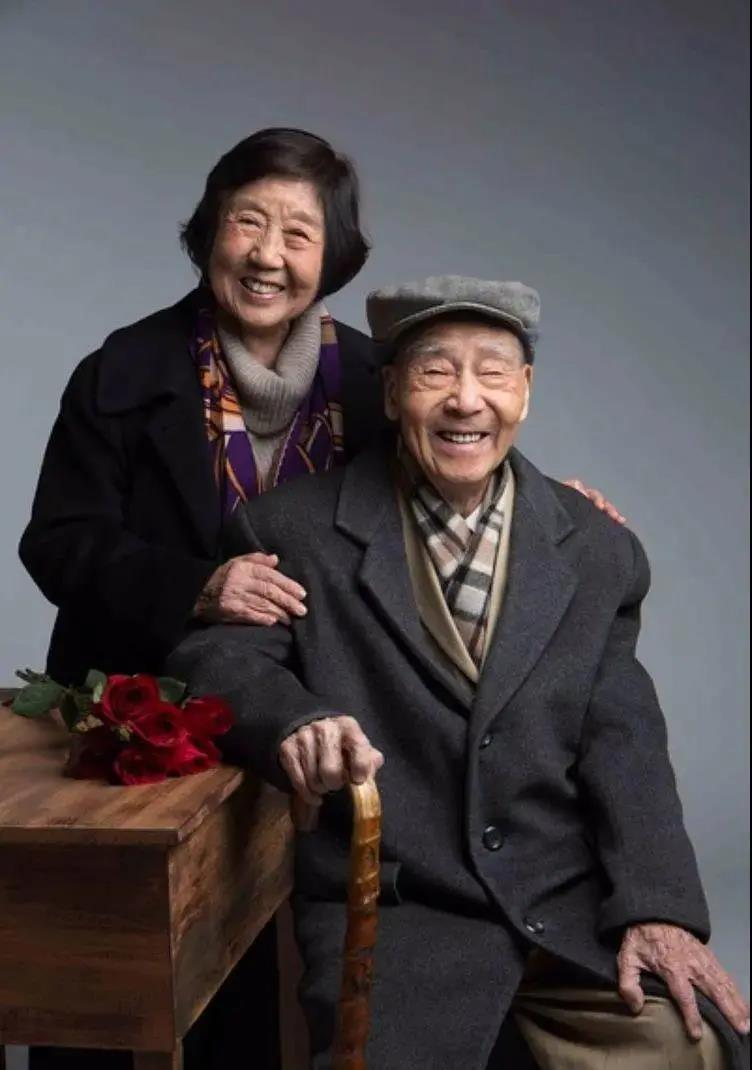 Xu with his wife Zhao Jun
On the second afternoon after the death of Zhao Jun, overwhelmed by various feelings and thoughts clashing fiercely in his heart, Xu opened Wilde's Woman of No Importance, knowing that the translation would provide him with the strength and determination to bravely move forward.
A Poetic Life Devoted to Translation
1939 was unusual for Xu Yuanchong. As an undergraduate in the National Southwest Association University, he met his mentor Qian Zhongshu, a renowned Chinese scholar and writer, and befriended Yang Chen-Ning, winner of the 1957 Nobel Prize in Physics. That year also witnessed his unrequited love to the girl sitting next to him in class. For the first time Xu translated a poem—"Don't Cast Away", written by Chinese architect Lin Huiyin. Even now he can still remember the lines of it—"The moon is still so bright; Beyond the hills the lamps shed the same light."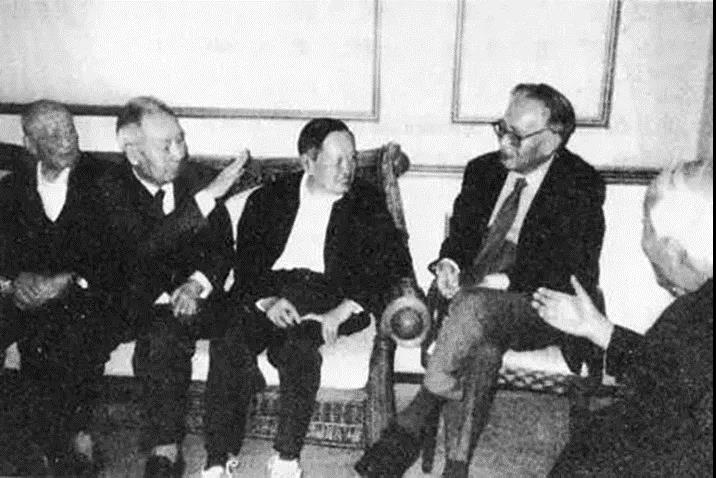 The "Five Geniuses" of the National Southwest Association University (From left to right: Zhu guangya, Xu Yuanchong, Yang Chen-Ning, Wang Chuanlun, Wang Xiji)
At university, Xu gave outstanding performances in Russian, French, while even hosting Shakespeare classes, clearly showing a gift for translation. In 1941, at a reception welcoming General Claire Lee Chennault, commander of the U.S. Army Air Force "Flying Tigers", Xu, who was a senior student at the time, borrowed Lincoln's well-known phrase "of the people, by the people, for the people" in order to refer to Sun Yat-sen's "Three Principles of the People", solving the communication difficulty between the Chinese and American representatives. It soon became a story on everyone's lips.
Because of this, Xu was regarded as one of the "Five Geniuses" of the National Southwest Association University, the other four being Yang Chen-Ning, Wang Chuanlun who later became a famous financial economist, and Zhu Guangya and Wang Xiji, both of whom later participated in China's "Two Bombs, One Satellite" projects. The "Five Geniuses" all made great contributions to the Republic of China.
It is an Incomparable Joy to Create Beauty
When the People's Republic of China was founded in 1949, Xu Yuanchong was studying in France. After his graduation, Xu returned to China and devoted himself to education and translation. He was the first Chinese translator who translated Chinese poetry into English and French verse. By 1958, he had published the Chinese version of John Dryden's All for Love and Romain Rolland's Colas Breugnon, and translated the poems of Mao Zedong into English and French. His treatment of a line of Mao's "Militia Women: Inscription on a Photograph -- a jue ju" is often cited as an example by other translators: To face the powder and not to powder the face.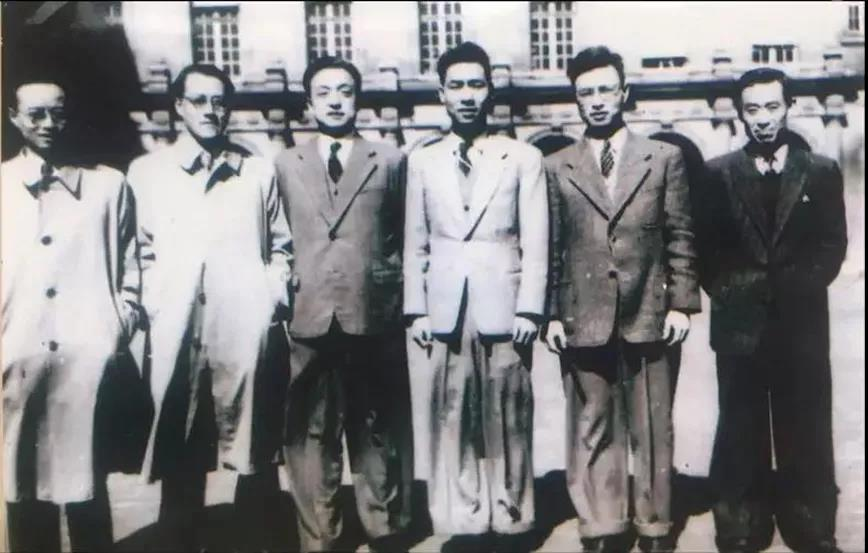 Xu Yuanchong (the fourth from the left) in France
In 1979, Xu first proposed the "Three Beauties Theory" in a letter to scholar Zhu Guangqian. According to his theory, a good translator should convey the beauty in image, the beauty in sound and the beauty in form, to his readers in his translated works. Xu managed to be such a translator himself.
Xu taught in the School of Foreign Languages of Peking University since 1983. He later translated many Chinese classical literary works into English and French, such as the poems of Tang and Song dynasty, Book of Poetry, Elegies of the South, and Dream in Peony Pavilion. He also translated many western masterpieces into Chinese, The Red and the Black and Jean-Christophe.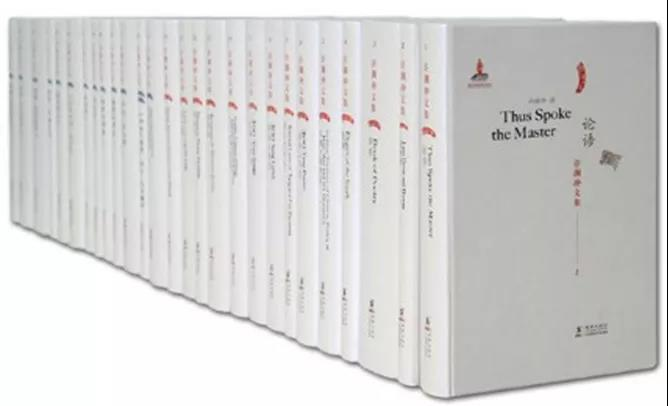 The collected works of Xu Yuanchong
Xu said, "The greatest joy of an individual is to be with the people you like and do what you like to do. The greatest joy on the earth is to introduce the beauty created by a people to the whole world."
Never Too Old to Translate
In 2007, Xu Yuanchong was diagnosed with rectal cancer. His doctor told him that he would live no more than seven years. However, he vigorously appeared at the award ceremony of the Aurora Borealis Award for Translation in 2014 and became the first Asian recipient. Perpetua Uiterwaal, member of the International Federation of Translators and juror of the panel said the prize was given to Xu for his "career in building bridges among the world's Chinese, English and French speaking peoples".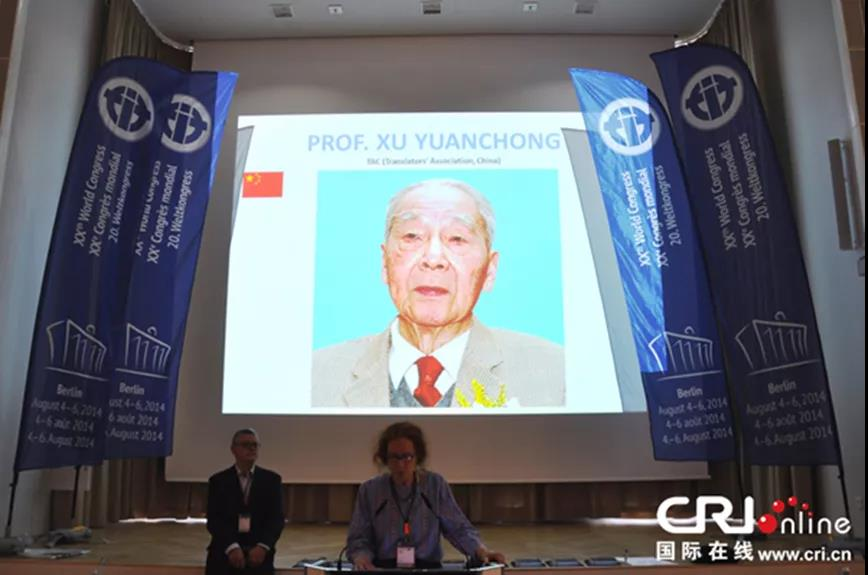 Perpetua Uiterwaal presenting the Aurora Borealis Award for Translation to Xu Yuanchong
At present, the hundred-year-old Xu is delving into the translation of Shakespeare's complete works. Until now he has finished the translation of six tragedies. Xu said he was not aware of his old age. Only when he needs to read books with the aid of a magnifying glass, will he smile and utter, "I am really old!" When somebody inquired as to whether he could complete such a heavy program, he responded, "There is always something that I cannot do. Just leave it to my next generations."
As Xu sees it, "Life is not how long you live, but how long you can remember." He is enjoying a life worth remembering.
Read More: Xu Yuanchong: Beautifully Connecting Chinese and English
Photo: China.org, CRI Online, Xinhua News, online resources
Graphic Design: Xu Haolun
Written by:
Hu Rong, Fan Xueyuan
Edited by:
Christopher Mahoney