Peking University, April 9, 2017: In 1952, two years after the establishment of "The Specialized Chinese training class for Eastern Europe students" at Tsinghua University, the specialized Chinese training class for international students officially came into being and was put under PKU's administration. Since then, PKU has recruited approximately 2000 overseas students during the next 14 years, and played an important role in the communication with international students throughout the past few decades.
In the 70s: Learning from Peasants and Workers through Open-Door Schooling
Halted by the Cultural Revolution in 1966, the education of international students was not resurrected until ten years later. Many youths came to China from western Europe harboring the passion of studying socialism and the curiosity to see what China was really like.
In the early 1970s, in response to the "open-door schooling" policy, students and teachers across the country visited factories and went down into the countryside to "eat, live and labor together with peasants ". Hoping to have a taste of the real life of the masses in China through social practice, international students at PKU volunteered to join them in laboring.
Simple as the routine agricultural work might seem, for these international students, such labor was a millstone around their neck. Johnny Erling, a German student, who is now a renowned media professional in China, had spent 21 days sleeping on a Kang (a type of heatable brick beds common in Northeastern China ) with peasants in a people's commune in Beijing. After all these years, the difficulty of transplanting rice seedlings was still carved deeply in his mind.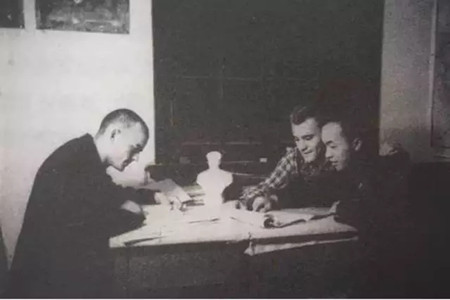 Johnny Erling
The "open-door schooling" policy gave international students a great opportunity to form a real picture of the lives led by the masses in China through social practice and contacts with the local people. These invaluable experiences also equipped them with the necessary knowledge for studying the Chinese society in the future.
From 70s to 80s: Living together with local students
From 1970s to 1980s, in order to help the increasingly large number of overseas students quickly get accustomed to living in China, a new policy was carried out. It arranged one international student and one Chinese student to live together in one dorm. Living under the same roof, they would tend to form a closer bond through mutual assistance and acquire a better understanding of each other through cross-cultural communications.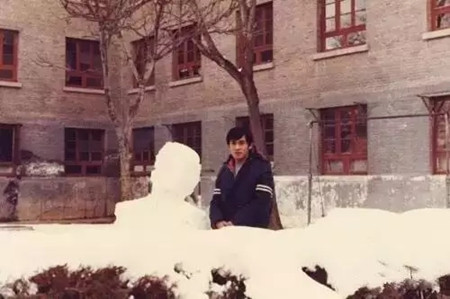 Jaime
Li Xiaocong, a professor at the Department of History, was assigned to live with a Filipino student named Jaime A FlorCruz back in 1981. In a time with scanty supply of material goods, Jaime offered Li his first sip of Coca Cola, his first pair of jeans with elastic cords, and his first foreign music record. Their solid friendship continued long after Jaime's graduation.
After 80s: Diversification of cultural communications
Since the 1980s, as the cold war pattern gradually disintegrated and the international situation moved towards moderation, more overseas students came to China from all over the world. In order to prompt a better understanding of Chinese culture, PKU organized visits to places with special significance in modern Chinese history and performances introducing Chinese cultural heritages such as Peking Operas, acrobatics etc.
While acquiring more knowledge about China, international students also presented their own cultures to us. Since their debut on the New Year Party on CCTV and BTV in 1988, international students from PKU have continued to amaze Chinese audiences with excellent performances full of creativity and joy.
As more and more international students with diversified backgrounds came to PKU, the traditional means of cultural presentation could no longer satisfy them. On April 25th, 2004, in the Peking University Hall, students from 59 countries set up well-decorated exhibition stands to celebrate the first International Cultural Festival in PKU. Henceforth, the International Cultural Festival has continued to attract the attention of more and more visitors as well as overseas students to showcase their own cultures to the world via this platform.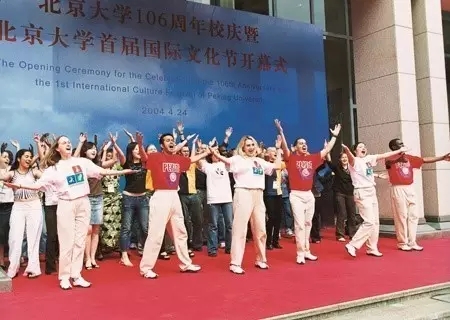 The First International Cultural Festival
From 1952 to 2017, the education of international students in PKU has lasted 65 years. International students come here with the curiosity about China, and in return we take glimpses of the world through them. The communications between diverse cultures is a process of exchanging ideas, gaining mutual recognition, and understanding differences. No matter how different we may be, there's one thing in common that will never change– we're all PKUers.
Written by: Yin Xin
Edited by: Hu Rong, Xu Liangdi
Source: Beida Youth (in Chinese)