First World Congress on Marxism held at Peking University
Oct 13, 2015
Peking University, Oct. 13, 2015:
The first-ever World Congress on Marxism was inaugurated at Peking University on October 10, 2015. More than 400 scholars of Marxism and specialists of China studies from over 20 countries and regions attended the two-day seminar, with the focus on "Marxism and the Development of the Human Race".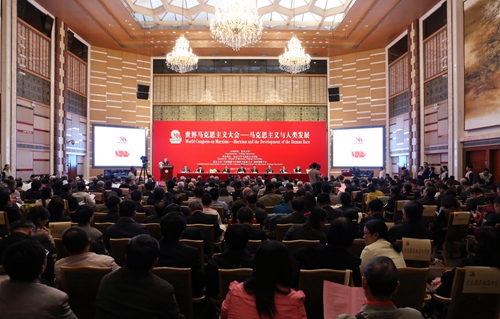 World Congress on Marxism


This congress invited a group of world-renowned scholars and specialists, including Samir Amin, the Egyptian Marxian economist, and Roderick MacFarquhar, the Harvard University professor and China specialist. In terms of scale and level of professionalism, it should be the best international academic congress on Marxism studies ever held in China. With eight sub-forums and three special sessions, the assembly aimed at facing the complicated problems of today's society, studying and sharing China's experience, promoting the worldwide communication, dissemination and development of Marxism, and at propelling the advancement of world civilization to build a community of common destiny for all mankind.

Lin Jianhua, president of Peking University, presided over the opening ceremony of this congress. Afterwards, several scholars delivered keynote speeches.

Samir Amin, approving the contribution Chinese Marxism had made to human civilization, said in his speech, "in the studies of and reflection on Marxism, we have to look to Chinese Marxism, which is the realistic reflection of the vitality and popularity of Marxism."


An Attentive Listener


On the afternoon of Oct.10 and the morning of Oct.11, eight sub-forums were hosted by both Chinese and foreign scholars, covering wide-ranging topics such as "The Origin and Development of Marxism" ,"Marxism and Scientific Culture", "Marxism and Globalization" and so on. Along with the sub-forums, three special sessions were held, at which noted worldwide scholars gave keynote speeches, had active dialogues, and interacted with the attendees.


One Special Session


World Congress on Marxism ended on the afternoon of Oct.11. At the closing ceremony, "Consensus by Scholars of World Congress on Marxism" was delivered, which pointed out that Marxism, renewed with time, could still be the guiding light for today's human society to help people out of the plight.




Written by: Zhang Xinyu
Edited by: Xiao Yunyun
Source: PKU News Center