Peking University, June 23, 2017:
On
June 22, 2017, in the heart of London
, t
he University College London Institute for Education (
UCL
-
IOE) Confucius Institute opened
its new teacher training and research facility
as part of its
Model Confucius Institute
expansion
. The presidents of Peking University and UCL
, alongside Minister Zhu Qin of the Chinese Embassy to the UK
,
cut the ribbon
opening the
Model Confucius Institute
.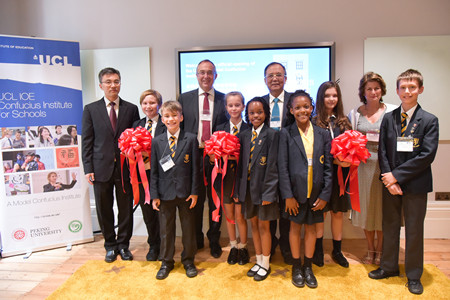 The
UCL
-
IOE Confucius Institute
, founded in 2007,
is a collaboration, between University College London (UCL), Peking University (PKU), and Peking University High School, and it is generously supported by the Confucius Institute Headquarters (Hanban). The Institute aims to train enough teachers of Mandarin Chinese to give every secondary school in England the
ability
to teach Chinese.


Currently, t
here are more than 9,000 students studying Chinese in 45
UCL-
IOE Confucius Classrooms, with Chinese General Certificate of Secondary Education (GCSE) entries having grown by 70% since 2008.
The
Model Confucius Institute, which is an expansion of the
UCL
-
IOE Confucius Institute,
is expected to
continue this trajectory in years to come.
The
Model Confucius Institute's
new teacher training facility
which
will significantly increase the number of Chinese teachers trained, providing schools with a reliable supply of teachers with the most effective language teaching skills.


Katharine Carruthers, UCL
-
IOE Confucius Institute Director, explains:


"The IOE Confucius Institute building sits at the heart of our strategy to achieve our goal to develop a solid infrastructure for teaching Chinese, and will play a key role in enabling the training of teachers to deliver the effective teaching and learning of Chinese language in schools in England."


The UCL
-
IOE Confucius Institute, which opened in 2007, is one example of the many bilateral collaborations between PKU and UCL, across a wide range of disciplines from medical sciences and

city-planning to language education and archaeology
. In total, PKU has ten jointly established
Confucius Institutes,
and the
UCL
-
IOE Confucius Institute
is the only one of the ten that is specifically designed for elementary and middle school education.


UCL President, Professor Michael Arthur said of the recently completed Model Confucius Institute expansion:


"I'm delighted to welcome President Lin to UCL once again; this time to the wonderful new facility at the IOE Confucius Institute. The new building will play a key role in enabling the teaching and learning of Mandarin in England and have huge long-term benefits for children and young people as well as for the development of bilateral relationships between the UK and China."


Lin Jianhua (right) delivering a speech


PKU President, Professor Lin Jianhua said:


"It's an honour to be invited to open the Model Confucius Institute at
the UCL
-
IOE Confucius Institute
. We're very happy to be working with UCL to promote Chinese culture and language in the UK, as part of our deep strategic partnership."

Background Information:

·
Other examples of bilateral collaborations between PKU and UCL include:


Mega-Urban Development, Smart and Future Cities
between the PKU College of Urban and Environmental Sciences and the UCL Bartlett Faculty of the Built Environment;


Major collaborative research on antimicrobial resistance between UCL Genetics Institute and Peking University People's Hospital
within the framework of the Medical Research Council UK's Newton Fund;


The International Centre for Chinese Heritage and Archaeology: a joint centre between PKU's School for Archaeology and Museology and the UCL Institute of Archaeology;


UCL China Centre for Health and Humanity and PKU Institute of Medical Humanities
will run a Wellcome Trust funded event 'Cross-Cultural Health Humanities in a Digital World', to be held at the UCL Institute of Advanced Studies in November 2016.
About UCL (University College London)


UCL was founded in 1826. It was the first English university established after Oxford and Cambridge, the first to open up university education to those previously excluded from it, and the first to provide systematic teaching of law, architecture and medicine. It is among the world's top universities, as reflected by performance in a range of international rankings and tables. UCL currently has over 38,000 students from 150 countries and over 12,000 staff. Its annual income is more than £1 billion.

About the UCL IOE Confucius Institute (IOE CI)
The IOE CI supports schools in the sustainable development of the teaching and learning of Mandarin Chinese and the study of China across other areas of the curriculum.
Schools across the country are increasingly offering Mandarin Chinese as an option for their students. The IOE CI is a bilateral project with Peking University and Peking University High School and supported by the Office of Chinese Language Council International, Hanban. As well as a team of specialists in London, the IOE CI has a network of 45 Confucius Classrooms across England, schools which have both Chinese firmly embedded in their own curriculum and which give advice, support and taster classes to other schools in their region looking to start offering Chinese.

Edited by: Zhang Jiang
Source: Office of International Relations