Peking University, March 18, 2021: Peking University students and alumni are spread all across the world. PKU Personalities interview series is a part of our determination to keep Pekingers connected in this time of global isolation.
This series of interviews aims to introduce notable Pekingers dedicated to international dialogue and cross-cultural communications to the rest of our PKU family and the world. With International Women's Day falling on 8th March, this month's PKU Personalities will feature a special interview with Kaori Kohyamaabout her journey in empowering women.
Kaori Kohyama, currently enrolled in the Master's program at Peking University's Yenching Academy, is also one of the graduates in the 2020 Batch of Double Degree Program between PKU and Waseda University. She was a major in Political Science at Waseda and in International Relations at PKU. Kaori is also a scholar under the Asian Future Leaders Scholarship Program (AFLSP) at Bai Xian Asia Institute.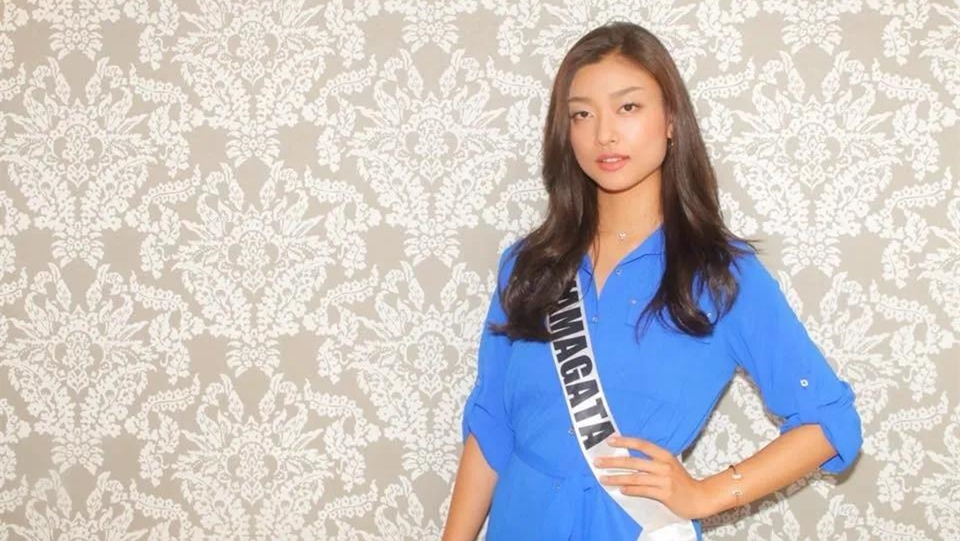 International Experience at PKU-Waseda
Kaori credited the Double Degree Program between PKU and Waseda University as the catalyst in helping her grasp a more balanced holistic view of various global issues and international relations of today, as she learn and understand them from varying cultural perspectives.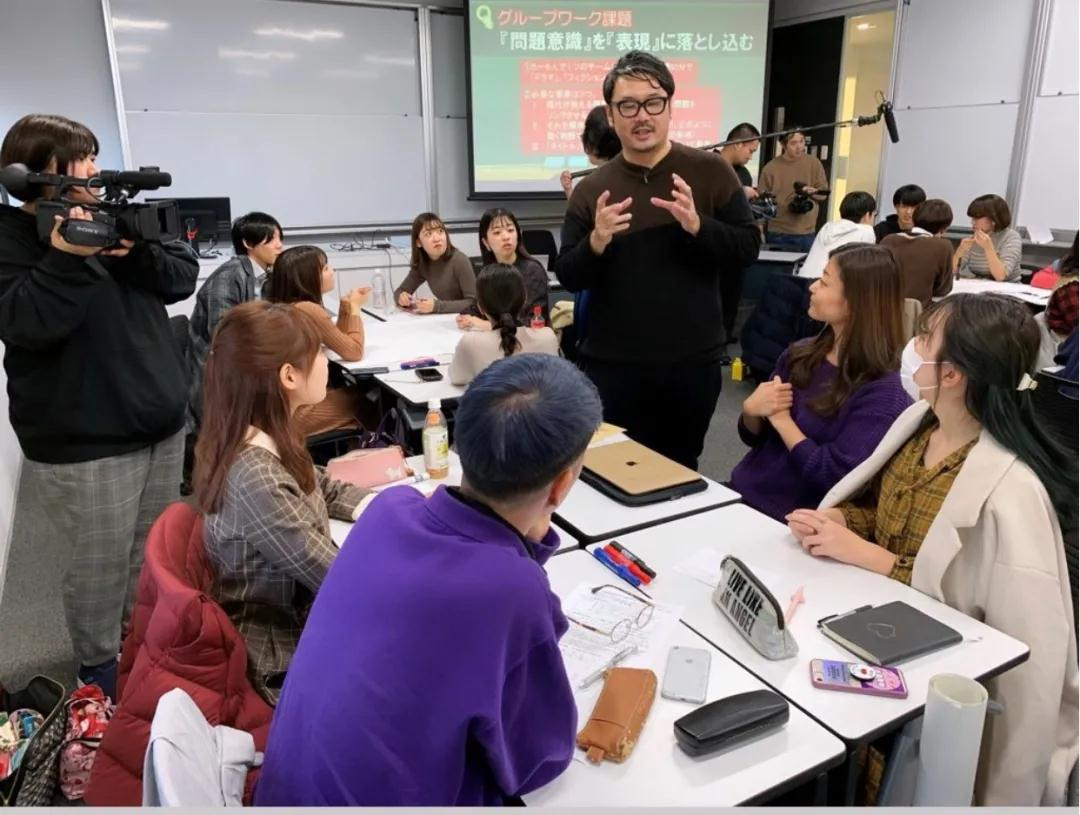 Kaori attending a lecture seminar at Waseda University
"Studying at Waseda allowed me to gain a better understanding of the western demographics of the world today, as we learn to analyze international politics in greater accordance to western values, and a lot of East Asia cultural perspectives were less mentioned back then. However, having the opportunity to study in PKU offered me a brand-new perspective to how I would analyze things back then as I learn to see, judge and analyze from the 'East' side of the history"
Apart from acquiring a more well-rounded cultural perspective, Kaori also emphasized how the international experience allowed her to rediscover and appreciate the various connections and origins between the Japanese culture and the Chinese culture.
As the main emcee for ceremony commemorating the 45th anniversary of the normalization of Sino-Japanese diplomatic ties in 2017, Kaori mentioned how participating in these events allowed her to recognize, see and experience the real diplomatic issues between the two countries which may often seem overly theoretical in the classroom.
A tear-shedding but noteworthy experience
Kaori recalls a stark contrast between her study experiences in Waseda and in PKU.
"Apart from the different academic and cultural perspective China has dawned on me, I do feel the differences in the university culture in Japan and in China."
Kaori shares that the university culture in Japan is generally designed to be more socially inclined and place less, if not little, emphasis on academic grades. Kaori further explains that obtaining an undergraduate certificate, regardless of your grade points, is relatively adequate enough to be qualified for most firms in Japan. However, her experience at PKU taught her otherwise.
Whilst emphasizing on students' social services and non-academic achievements, Kaori realized how Chinese universities at the same time, still continue to hold high regard of key academic results as one of the competing factors in the intensively-large market.
Kaori taking online classes at Yenching Academy currently
"The (rather) big change in environment and expectations during my first semester in China was actually not easy at all, I must say. Being in a Chinese-taught program, the language barrier made the learning process challenging. I remember breaking down so many times back then."
Despite meeting various obstacles and challenges along the way, Kaori described the whole experience to be "worth every bit of my (her) tears". She was determined to overcome the language barrier throughout her journey as she feels that studying in the Chinese medium will allow her to see and understand things deeper and better from their perspective.
Balance of social life at PKU
Despite the academic workload, Kaori ensures she makes the most out of her PKU experience. She was active in participating in many cross-cultural and arts events during her time in PKU such as Peking University's International Culture Festival (ICF) and the Top 10 International Students Singing Competition in which Kaori managed to emerge as one of the top 10 finalists for the year.With her consistent drive and interest in the media and journalism industry, Kaori is also part of the PKUTV team during her undergraduate years.
Refocusing on international relations and journalism
"People only want to see what they want to see, and that is precisely why today's journalism has been overly commercialized and sensational rather than fulfilling its role to tell a truth."With her wide-range and years of experience in writing and her rich knowledge in political science and international relations, Kaori is keen on reconstructing the ways how information is conveyed through media domestically and internationally, providing a more well-rounded cultural perspective of political issues on the international level, and not further instill blind confirmation biases which may aggravate the serious tensions present in this crucial era.
Fostering Dialogue
Kaori believes that although the geo-politics in East Asia is inter-connected, there is a huge communication gap between nations within the region, mainly due to the linguistic diversity and political distance. Hence, with the aim to foster idea-sharing in East Asia, Kaori, along with a fellow alumni of the Bai Xian Asia Future Leaders Scholarship Program, founded an Non-Governmental Organization (NGO) , THE LEADS ASIA.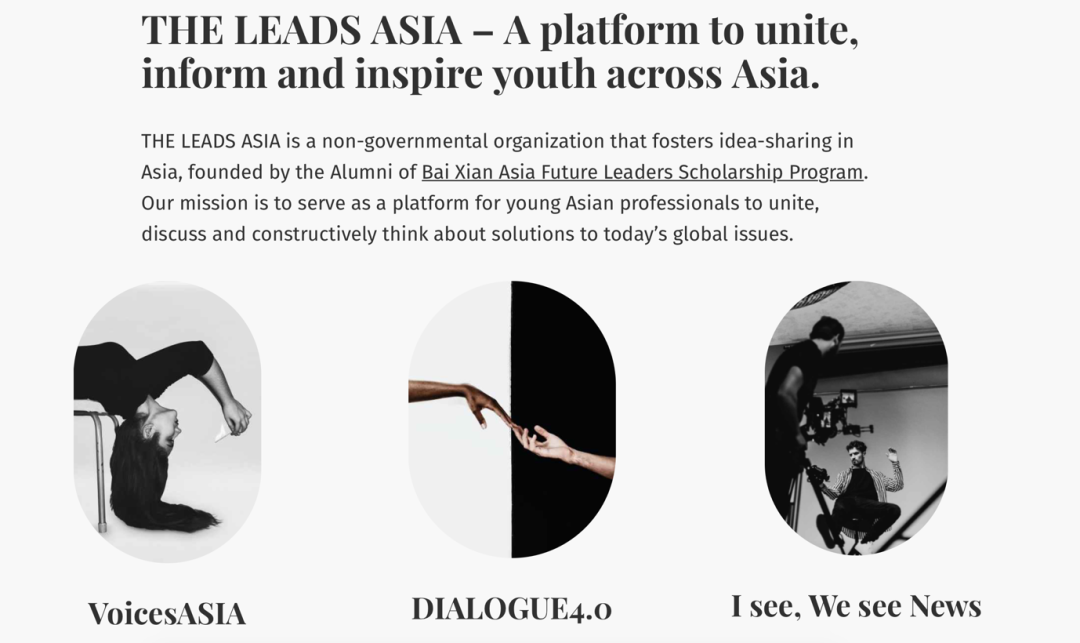 Co-founded THE LEADS ASIA with her friend to encourage free flow of dialogues on regional and international issues
THE LEADS ASIA provides students and young professionals from East Asia with a platform that encourages free-flow of dialogues on regional and international issues. Kaori believes solutions aren't necessary, the emphasis should be first given on an open and comfortable idea exchange platform. Now, THE LEADS ASIA is a growing family currently with members from 7- 8 different nationalities as well as participants from other organizations.
Pursuing gender equality
While Kaori has always been a supporter of gender equality, it wasn't until she participated in Miss Universe Japan that she realized she was a feminist too. During the competition, Kaori felt no more than a commodity and she expressed that her human rights "were non-existent". This probed her to knuckle down on this socio-cultural issue which has been normalized over time in Japan.
"In most cases, the girls become jobless afterwards because it is difficult to find a full-time contract once you quit it in Japanese working culture, especially for women in their late-20s. So the choices for these girls would be to work part-time, or to become a full-time housewife to a rich man."
The larger picture was the overall systematic gender stereotype in the society. She recalls some people saying that "higher education for girls is meaningless" and that she should rather focus on "seeking for a wealthy partner" than pursuing a master's degree. Kaori believes that this mindset has toxified the society, discouraging young girls to educate themselves, further allowing such pageants to earn off making women compete for society's standard of beauty and acknowledgement.
When Kaori came to study in China, she was astonished by how women were empowered in education. Her Chinese female classmates wouldn't be shy to speak up in class and were comfortable in their own skin without the distraction to meet societal standards of beauty, which was "revolutionary". Kaori credits the gender notion from the Marxist times as one of the core factors. The concept was different and refreshing for her which garnered her interest to pursue gender studies at Yenching Academy.
Being an advocate
During her time at PKU, she managed a few days trip back to Waseda University to share her story at TEDxWaseda in the hope to raise awareness and take a step towards breaking gender stereotypes.
With her consistent drive and interest in the media and journalism industry, Kaori is also part of the PKUTV team during her undergraduate years.
Photo credit to: Kaori Kohyama
Designer: Goh Chia Chia
Written by:
Goh Chia Chia, Aneka R. Rajbhandari
Edited by:
Pu Hairui