Peking University, Feb. 2, 2021: In August 2020, Global Innovation Investment-New Opportunities for Wealth in Great Economic Transformation was published by CITIC Press Corporation. The Chinese monograph was written by Daniel (Daekyun) Mok, head of Global Investment Division of the Mirae Asset Global Investments Co., Ltd and EMBA alumnus of the National School of Development (NSD) at Peking University. The book focuses on the current global economic landscape and the changing environment of the investment, analyzes forward-looking investment strategies, outlines the critical success factors in investment such as the speed of innovation and capital flow, and proposes investment methodology suitable for innovative enterprises.
Huang Yiping, deputy dean of NSD and director of the Institute of Digital Finance, Peking University, believes the book will provide a valuable reference for readers to understand the international capital market and investment. Xue Zhaofeng, an economist and former professor of NSD, said he feels like having an inspiring class after reading this book. "I particularly admire that the author can boldly and honestly share his failed investment cases with the public. I believe that readers will learn a lot from this book," Xue added.
Mok is a top investment expert and one of the highest-yield fund managers in South Korea, and he takes charge of the largest fund in South Korea. Why does he value the Chinese market so much that he published his book in Chinese to better draw attention from Chinese investors and entrepreneurs? Why did he choose a Chinese EMBA program in Beijing? What influence will China's EMBA education have on an investor with a different cultural background? How does the South Korean investment community view China's innovation opportunities in the future?
With these questions in mind, we interviewed him online.
Why should South Korean Investors Study in China?
Although South Korea is a developed country, its domestic market is limited due to its small population. China, a neighboring country, has become a very promising "huge market" for the South Korean investment community. The rapid development of China's economy enables an endless stream of innovative companies, whose vitality makes Korean investors full of imagination on the Chinese market. Many Korean investment institutions usually hire Korean employees who master Mandarin to target the Chinese market, but they often have a limited understanding of China. Mok thought if he traveled to China only once a month, he would have a very superficial taste of China.
As the most direct way to understand China, Mok chose to join the EMBA program in NSD, a top-tier business school that gathers outstanding Chinese entrepreneurs. Spending two years to have an in-depth understanding of China became his next "strategic action".
With the recommendation of South Korean EMBA alumni of NSD, Mok began his EMBA study in the Langrun Garden of NSD.
"Many successful entrepreneurs and senior executives are enrolled in the Peking University EMBA program. EMBA study gives me a good opportunity to communicate with them!" Mok said.
Two Most Common Challenges Facing International Students in China: Food and Language
What is the first challenge international students face when they come to China? Language? Culture? No, it's food!
Although Chinese are proud of their eight culinary cuisines and countless delicacies, for Mok, Chinese food seemed not to adapt to his taste. Korean cuisine is his favorite. To study in China, he had to get used to eating Chinese food and fuel his academic study.
Moreover, Mok chose various types of hotels with different locations and cultural characteristics every time, so that he had opportunities to chat with Chinese people from all walks of life in Dongcheng, Xicheng, Haidian and Chaoyang districts. Beijing is like a kaleidoscope, which gradually became more multidimensional in his mind. It helped him approach Chinese people and Chinese entrepreneurs with high efficiency.
Another significant challenge in language "came as promised" at the NSD EMBA program opening ceremony. On that day, the classmates kindly greeted Mok "When did you come to Beijing?" He replied "last year", but what he wanted to say was "Yesterday"-A miss is as good as a mile!
Chatting with teachers and classmates led to more funny mistakes. When someone said "bi te bi", which means Bitcoin in English, he thought it was "B2B". He had to write down the Chinese terms taught in class and repeatedly studied after going back to the hotel. When it came to the well-known names, even as "Qiao Busi", which refers to Jobs, he still didn't know whom the teacher was talking about until he saw the photo, due to the different pronunciation of Mandarin and Korean.
Why NSD EMBA program?
The EMBA programs are both available in English and Chinese in China. Nevertheless, Mok, who can speak English fluently but was poor in Chinese, chose the Chinese EMBA program offered by the NSD.
"The purpose of my study is not only aiming at management theories, but more importantly understanding China and the Chinese mindset by sharing thoughts with my classmates in Mandarin," Mok explained.
Mok added that the class discussion at Peking University impressed him a lot because it was a completely different approach from what he is familiar with in South Korea. Through intense discussion, Mok found that every professor and classmate in NSD are unique. "Their different opinions are valuable for me to understand China's innovation practices from various perspectives," Mok said.
Although Mok experienced some language embarrassments at the beginning, he is never afraid of rising to the challenge. The more challenges he faced, the more motivation he would have. Studying in China is a great opportunity. Mok used to learn Chinese with a teacher when he was in South Korea, but he had to spend time learning more complex and professional vocabularies when he was immersed in China. For international students like Mok, they often have to redouble efforts in their studies. On the one hand, they have to acquire knowledge about economics and business, on the other hand, they have to overcome language barriers. "That period of studying was truly exhausting," Mok said.
The completion of the book Global Innovation Investment also benefits from Mok's study in China. During the two years of studying in NSD, he has been reviewing and revising this book. His graduation thesis is about the relationship between R&D investment and profitability in South Korea, China and the US. "Professor Huang Zhuo, a financial expert of NSD, gave me a lot of guidance," Mok said.
Escaping from the Stock Market Crash
Mok usually flew from Seoul, South Korea's capital, to Beijing on weekends, once or even twice a month during his two-year EMBA study. Although the flight only takes two to three hours, he had to rush to the airport in advance and sometimes to get through customs could take hours.
Once, he took the Korean Air to fly back to Seoul after class, but his flight was delayed to next Monday due to a technical malfunction. When he was on the plane with his cellphone turning off, the Asian stock market suddenly plummeted. None of his colleagues could contact him. Fortunately, the stock market soon rebounded, and it was just a temporary fluctuation. This might be the price that a global investor may pay for pursuing international education!
"It's Difficult to Keep the Balance between Work and Family!"
With dozens of times from Seoul to Beijing and vice versa due to international studies over the past two years, Mok's schedule was very tight. When it comes to balancing family and work, he said, "I can't balance it at all."
Mok was nearly overwhelmed by his academic assignments, work, and language learning. His wife had to take over all of the family burdens. He had no time to take care of his family. Speaking of this experience, he had a bitter smile, but then it turned into a happy, sweet smile.
"In the two years, my investment achievements were much higher, because of my deeper insights of China and the theoretical knowledge acquired in NSD. At the end of the year, I got a big bonus! It could be a sort of compensation for my wife," Mok said.
After Mok graduated, he invited his classmates to visit large South Korean companies. The Class Coordinator Liu Wenbo highly appreciated his considerate arrangements for the whole study tour itinerary.
Be Optimistic About China's Innovation
China now focuses on the "dual-circulation" economic pattern and the investment in new infrastructures. Mok believes that the Chinese market is enormous, and external economic factors are less likely to hammer China's economy. "China's innovative companies have a stable business environment. Our current strategy is to invest in companies with great potentials, so that we can have higher economic returns," Mok said. He also pointed out that the Shanghai Stock Exchange's Science and Technology Innovation Board can provide easier access to financing for small and medium-sized technology companies, which will significantly promote China's industry innovation.
Two years of EMBA study at NSD have helped Mok better access Chinese TV dramas and China news. Although Mok was unable to come to China this year due to the COVID-19 outbreak, his words still demonstrated his confidence in China's economy and innovation. Now, Mok has a deeper insight into China. He is more confident to seize investment opportunities in China, and he even wants to start his own business.
"I hope the epidemic will end soon, so I can go to China to visit more companies and make more investments," Mok said. "I also want to try Chinese hotpot again, just in Beijing!"
Biography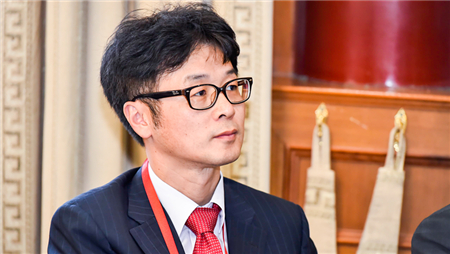 In 2002, Daniel Mok(Korean name Daekyun Mok) started his career in finance as an analyst at Mirae Asset Daewoo. Since 2005, he ran global equity funds at Mirae Asset Global Investments – a major asset management firm in Korea. Mok is one of the earliest global equity mutual fund managers in Korea. Having worked as a fund manager based in Seoul, Singapore and India, Mok gained extensive knowledge and experience in global equity investment and fund management. In December 2020, he founded K Global Partners and is serving as a CEO & CIO. K Global Partners is planning to invest in 1) innovative firms in the U.S. and China, and 2) Korean firms to improve ESG and corporate governance.
During his years at Mirae Asset Global Investments, Mok ran numerous global equity funds (e.g., Mirae Asset Global Growth Fund, G2 Innovator Fund, Mirae Asset Next Normal Fund) with assets under management totaling $3 billion. During his tenure, many funds achieved top performance globally as of October 2020.
In Feb 2019, Mok authored Global Innovation War, which describes emerging topics in innovation such as artificial intelligence, internet of things, big data, and biotech. He published a revised edition《全球创新投资》(中国中信出版集团) in Chinese in Oct 2020.
Mok graduated from Seoul National University with a B.A. in business administration. Inspired by NYU Investment Club during his study, he founded SMIC (SNU Midas Investment Club) and served as the 3rd chairman of the organization. In fall 2019, he earned an MBA from the National School of Development (NSD) at Peking University. Mok is actively engaged with Chinese companies and has deep interests in economic policies and innovation taking place in China.
In June 2016, Mok completed the Ironman Triathlon at 2016 Korea International Triathlon Jeju event. He also holds a black belt in Kyokyushin Karate.
Source:
National School of Development, Peking University
Written by:
Zhang Tong
Edited by:
Huang Weijian