Peking University, February 4, 2021: Ezra Feivel Vogel was the Henry Ford II Professor of the Social Sciences Emeritus at Harvard University, and his work on modern politics and society helped to shape the public opinion towards two economic powers, China and Japan. Professor Vogel passed away on December 20, 2020.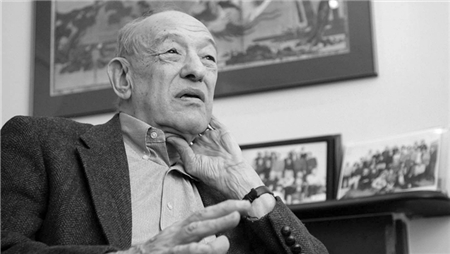 Recently, Dean of Yenching Academy and Professor of the School of International Studies from Peking University Yuan Ming delivered a speech based on her 37-year-friendship with Professor Vogel to commemorate the eminent scholar as well as his contribution.
Prof. Ezra Vogel was a man of enlightenment: erudite and tolerant, aspired to wisdom and pursued truth. In his writings and in his deeds, he exemplified the brightest qualities of the human spirit and those of a contemporary "junzi".
My first encounter with Ezra was back in the late fall of 1983 in Cambridge, Massachusetts. Mr. Xiang Ziming, then Chairman of Peking University Council, had been invited to visit Harvard, I was his interpreter. Our first campus moment saw the welcoming sign of the National Flag of China hung in the bright autumn sunshine. After a meeting with John K. Fairbank, we were introduced to the door of a local resident, and there Ezra Vogel opened his arms and greeted us with "Huan Ying"(欢迎) in a slightly accented Chinese.
Those words ushered in the beginnings of our lasting friendship of 37 years.
Our first encounter, however, had broader significance beyond personal amity. In broader terms, that visit, together with other booming activities of academic exchange, started a new journey of joint efforts of the two oldest institutions of higher learning in China and the United States. In fostering these efforts, Prof. Vogel was a central figure and assumed an active role. For brevity sake, I will mention just two examples, from my personal experience, of the energies he invested towards those noble aims.
In 1998, Ezra was invited to attend the 100th anniversary of Peking University. For the past decade, he had witnessed new obstacles emerge to the stable bilateral relations he had helped painstakingly construct. In a flash of inspiration, he reached out to both Professor Tanaka Akihiro of Tokyo University and me, to join him in his new research project to revive the impetus for improving relations between the United States and China, and with Japan.
The project was called "Ha-Bei-Dong". "Ha" for Harvard, "Bei" for PKU and "Dong" for Tokyo University. Two workshops were organized, respectively in Tokyo in 1999 and in Cambridge in 2000, followed by the publication of a volume titled "The Golden Age of the U.S.-China-Japan Triangle, 1972-1989". The purposes of the project and the book were, as Ezra noted in his introduction, to reexamine "the patterns of cooperation developed during the period of 1972-1989, when the U.S., China and Japan enjoyed positive relations with each other," and to see if relations going forward could re-capture some of the magic.
In the early Spring of 2001, the National Committee of U.S.-China Relations organized a super team to visit China. In Washington, the Republican administration replaced the Clinton team. Concerned people on both sides felt the imperatives of avoiding mutual misunderstanding which might navigate into wrong waters.
The group was well received in Beijing. In addition to the meetings with the Chinese leaders, Henry Kissinger, William Perry, Ezra Vogel and the others had one more highlight at Peking University. It was a face to face dialogue—a lively meeting between senior Americans and young Chinese students. In a particularly thoughtful exchange, Ezra humbly noted that, "For countries that we (Americans) don't have that much historical contact with, we tend to have more extreme reactions from one time to another. China is one of those countries. Because we have relatively little contact with China, our public opinion tends to go from one extreme to the other much more easily."
Ezra dedicated his life's work to moderating the excesses of those reactions, and to keeping relations on track in spite of misunderstandings and differences. His life, therefore, remains a testament of the possibility of successful cross-cultural exchange within a world full of complexities. By his example, Ezra gives us the confidence to continue to honor his legacy and never give up even in face of strong headwinds.
I present one last personal anecdote of his, that captures the spirit and depth of his unwavering commitment to that calling.
Ezra was 85 in 2015 when he made a field study in Sichuan to collect materials for his new book. Unexpectedly he had to accept an emergency medical treatment because of a relapse in one of his medical conditions. Two weeks later, when he returned to Beijing, Ezra recounted this extraordinary experience to me. He just walked into a local clinic, pulled out his phone, and showed the doctors what treatment he needed. Given his advanced age, some of the doctors were nervous to operate on him. Ezra looked into their eyes, smiled, and said, "I trust you." The surgery went without a hitch.
In human affairs, as Ezra demonstrated fruitfully, "trust" is the ingredient necessary to overcome many difficult problems. May we remember that and him.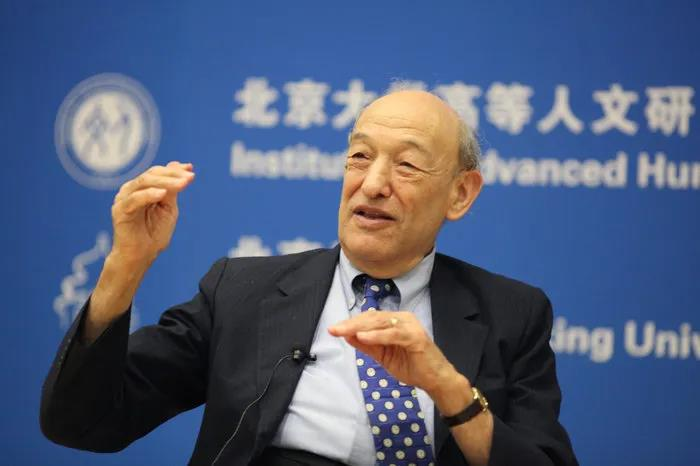 Prof. Ezra Vogel gave a lecture of the Beijing Forum Lecture Series at PKU in 2012
Written by:
Xu Haolun
Edited by:
PKU Yenching Academy