Peking University, April 13, 2021: For Prof. Justin Yifu Lin from the PKU National School of Development, the real study room lies in your soul. It's what you've heard and seen; It's what you've experienced.
In this week's PKU Scholar's Study Room, we'll take a look at renowned economics professor Justin Yifu Lin's study room.
The real study room lies in your soul
Situated near the North of the PKU Campus, Langrun Garden is a quaint and quiet garden to take a stroll in. In spite of this tranquility, it is filled with many economists who have returned to China after their studies abroad and it is buzzing with ambition and ground-breaking research. Today, we take a look at Prof. Justin Yifu Lin's study room which is located in Langrun Garden. He is the Dean of Institute of New Structural Economics and Honorary Dean of National School of Development at Peking University.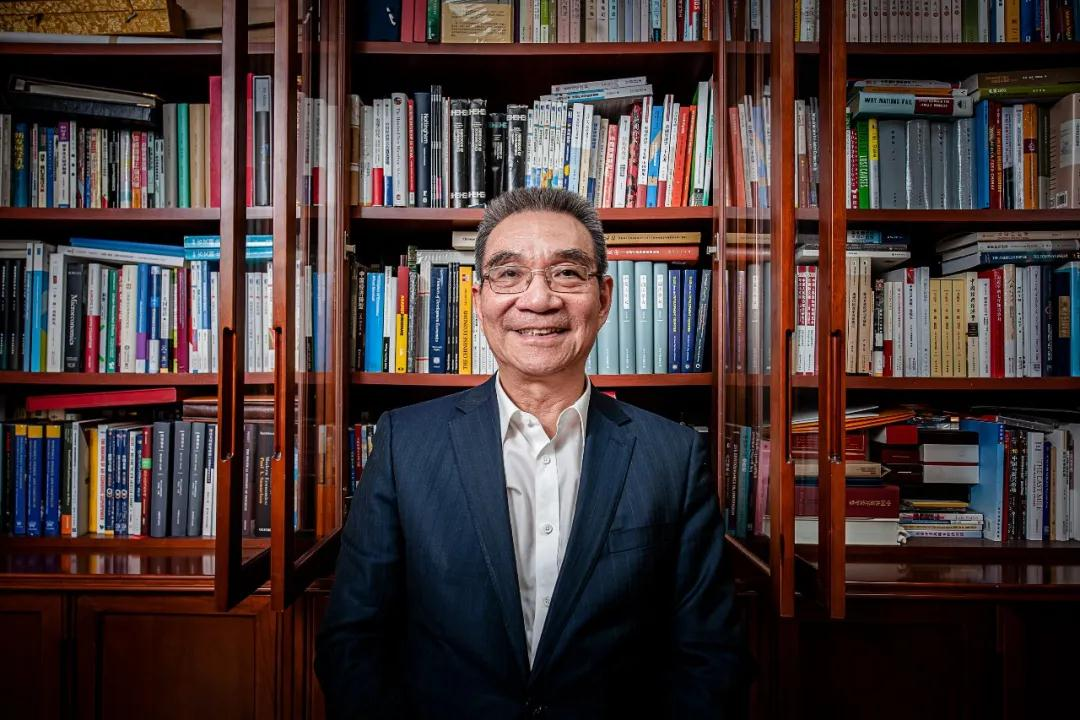 As soon as we push open the door to his study room, we see a maroon, wooden bookshelf and it is a solemn sight to behold. His bookshelf is a collection of wisdom across all time periods, from Three Hundred Tang Poems to policy papers on rural revitalization in contemporary China. Surprisingly, when asked to describe his study room, Prof. Lin humbly remarks that "My study room is simply my workspace, with a row of books; I also have an office at home with books".
To Prof. Lin, however, this is not what a real study room should look like. To him a real study room should be a state of mind, an intense desire for knowledge and it should in fact live in one's soul. A real study room should not be constrained by physical location but should follow you wherever you may be. "It may be on the road, on the plane, on the train; even during a meeting, while listening to a report or doing research. The most crucial thing is to always stay curious about things, phenomena and the society." Books are not just the physical objects that you buy and never read, real books can be found in your colleagues and friends, in a street corner of a bustling city or the vast expanse of farmland. There is always something valuable to learn from everyone and all of their knowledge will constitute your bookshelf.
To Prof. Lin, every matter is worthy of concern and every voice should be heard no matter how minute they may seem. "What I'm reading from books is definitely decreasing. But if we view our concern towards the society at large as studying as well, then we are always reading and learning new things."
Some books are always worth another read
"No matter where I am and how many times I have moved, there are a few books that I will always treasure. They may be limited in quantity, but these are the books that I hold dear to my heart."
Prof. Lin used to read a wide variety of books, ranging from astronomy to philosophy, absorbing all these knowledge as a young student. As he continued with his research journey, the books he read became more technical and content-specific. Even though Prof. Lin has read countless books, he is of the opinion that "Reading is not how many books you have bought but how much you have retained". Even though some books may have been misplaced throughout the years, there are still a few books that Prof. Lin remembers vividly. Granted, he may have read these books for the umpteenth time but he gains new insights everytime he reads these books again and will jot his thoughts down in the book.
He particularly treasures Chinese classics like Zhu Xi's "Si Shu Ji Zhu"(Annotations of the four classics), Laozi's "Tao-te Ching", Huineng's "Platform Sutra" and "Diamond Sutra". He believes that these are wisdom imparted across thousands of years and would ultimately benefit people from all walks of life."If I had to throw away most of my books, I would definitely keep these books even though their pages may have turned yellow."
When it comes to choosing between hardcopy and e-books, Prof. Lin believes that people always have to opt for the best medium in different era. In the past, there were only hardcopy books and even then some classics didn't have an index so looking up information required one to be widely-read. However the times have changed and all sorts of information can now be digitized, thus reducing the need to be widely-read. In this era where information is so easily and widely accessible, it is only when one can understand various concepts and apply them across a wide variety of situations can one be considered learned. "Knowledge is ever-changing; in fact, there is no definite right or wrong when it comes to knowledge".
The purpose of studying – to know the truth
Prof. Lin believes that the purpose of studying is to understand the truth – and the purpose of doing so is to contribute to the development of our respective societies. "Students in Peking University are the cream of the crop in this country so you have to be certain what your goal is", and to Prof. Lin this means to contribute to one's country, society and for the greater good of humanity. "Most theories that we learn in university now derive from the experiences of developed countries and their solutions to certain problems. However, the world is ever-changing and there are inherent differences between developed and developing countries so it is definitely insufficient to look for the answers to today's problems in the textbooks of yesterday. In fact, can we utilize what we have studied in school to better understand and apply it to our era and to grasp the theories to propel our society's development?", Prof. Lin wondered. This overarching question in his mind then grew to become what we now know as "new structural economics" – Prof. Lin's key research finding.
Of course, studying is important but knowing how to do so is the key to unlocking wisdom. All these years of experience have led Prof. Lin to believe that any theory is just like the parable of the blind man and the elephant. In fact, he believes that the best way to study is just like viewing a piece of artwork in the museum. When viewing a piece of artwork, one feels an immense sense of satisfaction. Yet when our motive is to create art, our mindset is definitely different when doing the same action. Many artists make the pilgrimage to the Louvre Museum not just to look at the artwork but to understand the meaning behind it. Similarly, studying is about admiring the author's words but even more so, to understand the wisdom behind his words.
Heralding the new era
Many people know Prof. Lin because of his illustrious achievements but there is a lot more to learn from him than that. On top of all his numerous accolades, his views of the world and responsibility to the nation are what really inspired us. He believes that the role of a scholar is to answer the question confronting each era and to solve the issues of each generation.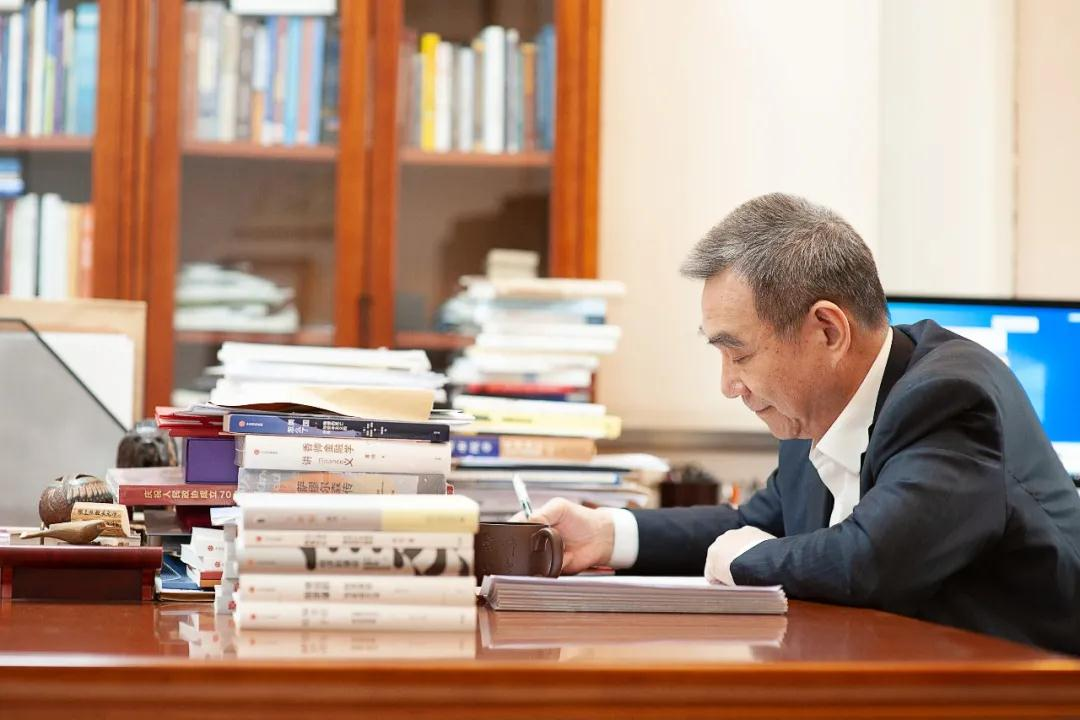 With an eye on promoting global development, Prof. Lin tries to bridge tradition and the future in his research. Langrun Garden, where the National School of Development is located, is not just another garden – it's brimming with ambition and filled with young pioneers making breakthroughs in economics.
Justin Yifu Lin is the Dean of Institute of New Structural Economics, Dean of Institute of South-South Cooperation and Development and Professor and Honorary Dean of National School of Development at Peking University. He was the Senior Vice President and Chief Economist of the World Bank from 2008-2012 and was the first person from a developing country to take up this role. Prior to this, Prof. Lin served for 15 years as Founding Director and Professor of the China Centre for Economic Research (CCER) at Peking University. He is Councilor of the State Council and a member of the Standing Committee, Chinese People's Political Consultation Conference.
Prof. Lin received his PhD in economics from the University of Chicago in 1986.
He is a Corresponding Fellow of the British Academy and a Fellow of the Academy of Sciences for Developing World.
Photo credit to: Lv Chen
Designer: Pu Hairui
Written by:
Ng Joong Hwee
Edited by:
Pu Hairui