U.S. Ambassador to China Terry Branstad visits PKU and delivers a speech
SEP . 21 2017
Peking University, September 18, 2017:
On September 15, 2017, American Ambassador to China, Terry Branstad visited Peking University along with his delegation and delivered a keynote speech concerning Sino-US economic relations at the Lecture Hall of School of Economics. Branstad is the first speaker of the lecture series, "Chinese Economy in the Eyes of Foreign Ambassadors"— one of the events held to commemorate PKU School of Economics' 105th anniversary.


Sun Qixiang, dean of SEPKU, delivered a welcome speech. In the speech, Sun first reviewed the history of the lecture series "Chinese Economy in the Eyes of Foreign Ambassadors". Then, she celebrated the great development of China-U.S. economic relations by virtue of the positive efforts of both countries in promoting bilateral trade and investments in the past 12 years. Sun hoped that America and China could join hands with each other so as to enhance common development and safeguard world peace.
Branstad delivering a speech
Ambassador Branstad then delivered a keynote speech. Branstad first introduced the development of U.S.-China relations in recent years. He pointed out that after the 2008 financial crisis, the U.S. economy managed a gradual recovery along with many risks and challenges such as terrorism, poverty and unemployment. U.S. and China should cooperate to handle these problems and create a better international environment.
After the speech, Branstad answered students' questions regarding One Belt One Road Initiative, multilateral trade and bilateral trade, etc.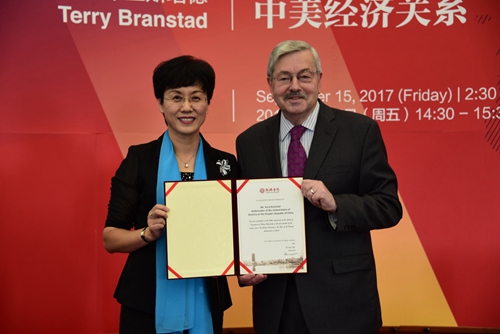 Sun issuing the speaker certificate to Bradstad
At last, professor Sun issued the speaker certificate for "Chinese Economy in the Eyes of Foreign Ambassadors" lecture series to Ambassador Bradstad.

Group photo

More information about Ambassador Terry Bradstad
Terry Edward Branstad was born and grew up in Iowa, U.S. He served three terms (1972, 1974 and 1976) in the Iowa House of Representatives Then Branstad was elected Lieutenant Governor of Iowa in 1978, and later became Governor of Iowa from 1983 to 1999. Branstad weathered the worst economic instability of Iowa in the 1980s and led Iowa's recovery to a thriving economy in the 1990s.

After four terms as Governor of Iowa, he served as president of Des Moines University (DMU).During his administration, he made DMU becoming a world –class educational institution. In 2010, he filled the office of governor again and made remarkable political achievements during his term.

Written by: Pan Xuru
Edited by: Wang Qian
Source: PKU News (Chinese)