Professor Li Yining wins Wu Yuzhang Honorary Award in Humanities and Social Sciences
JAN . 23 2017
Peking University, Jan. 17, 2017
: On Dec29, 2016,the award ceremony of Fifth Wu Yuzhang Honorary Award in Humanities and Social Sciences wa
s held in the Century Hall of Renmin University of China. Professor Li Yining, honorary dean of the Guanghua School of Management, Peking University, and Professor Chen Xianda, member of the social science committee of the Ministry of Education, both received the Wu Yuzhang Honorary Award. Vice Premier of China Ma Kai presented the honorees with their awards and gave his congratulations.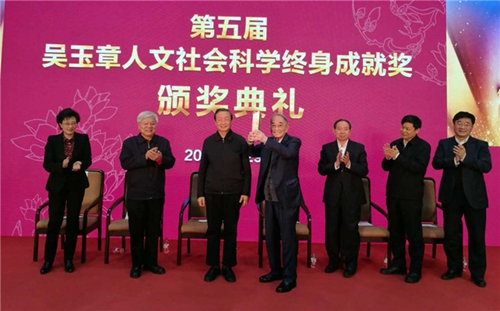 The Award Ceremony
Named after the first president of Renmin University—Wu Yuzhang, the award is annually conferred on two Chinese scholars with outstanding contributions to humanities and social sciences. Through years of development, Wu Yuzhang Honorary Award now signifies the supreme accolade in humanities and social sciences in China.
After congratulating the two honorees on winning the prize, Ma Kai lauded the remarkable achievements they had attained in their respective field and the prominent contributions they had made to promoting the progress of our country. Ma Kai then said that the contributions made by Li Yining to the establishment of capital markets and China's enterprise reforms, shareholding reforms in particular, were conspicuous for all to see.
What deserved special attention, Ma kai stated, was that the two giants have perseveredin cultivating numerous brilliant talents for decades. What's more, Ma kai quoted a poem composed by Li Yiningon the scene: "Over eighty though I am, devoted in the classroom; asking my lifelong wish? Surpassing the teacher are my students." Born in 1930, Professor Li had dedicated over 60 years to China's education and economic reforms, and made marvelous contributions both theoretically and practically to China's future development.
After receivingthis award, Professor Li expressed his heartfelt gratitude. Acknowledging that any research on Chinese Economic Reform was the result of collective efforts, Professor Li Yiningexhibited his becoming modesty in the ceremony.