Peking University 2016 graduate commencement
JUL . 14 2016
Peking University, July 11, 2016:
Peking University 2016 graduate commencement ceremony was held on July 6, in Peking university gymnasium. Peking university school board, the department officials, faculty and staff representatives attended the commencement.
2016 graduate commencement
The commencement started with a short document video on the screen, recalling the familiar life on campus. Student and teacher representatives recited the classical poem by Xie Mian, "Forever Campus" , with the company of Peking University Orchestra. "The spirit of Peking University—the spirit of China, is developing here. The campus is forever."
Graduates watching the documentary video
The commencement officially started with the national anthem. PKU executive vice president Ke Yang announced Doctor's and Master's Degrees awarded to 1703 and 6041 graduates, respectively. Vice president Wang Jie announced the award to 100 outstanding Ph. D. thesis. Another award, announced by executive vice president Wu Zhipan, grant 1517 graduates "2016 Peking University outstanding graduates" and recommended 507 graduates "2016 Beijing Higher Education Outstanding Graduates."
Ph. D. student Cheng Feng from School of Earth and Space Sciences, offered the graduation speech. Cheng shared his experience in Peking University and what he had learned in these years: he was devoted to the study of Tibetan plateau since his undergraduate years, witnessed the earthquake of Yu Shu and the diligiency of people there. His spine was once seriously injured during his study, but he managed to pick himself up and face the sufferings with optimism. What he gained from his research experience is more than academic discoveries, but also a treasure of spirit richness.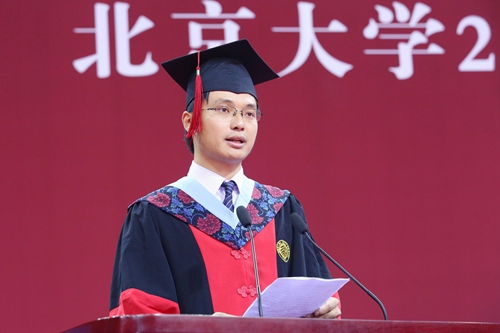 Professor Qiao Jie, president of Peking University 3rdHospital, conducted a speech as the mentor representative. She expressed three expectations in her speech: she expect graduates to be decent and kind, they should be always "on the way," and persist in what they love. PKU graduates should be responsible for whatever they do, and take every consequences for each of their choices. They should always remember what they started for, and keep up with their dreams, which they should always have.
Later, a video from the staffs was shown to express their blessings to the graduates, wishing the them to be always healthy, happy and enjoy what they do.
Zhu Jialin, a class 1966 graduate from School of Mathematical Sciences, spoke as alumni representative. Having been graduated for 50 years, Zhu shared his life experience with the graduates in this special moment. Zhu thought that it does not really matter what you are specialized in, but the cultivation of the culture of this university is what matters. It is this culture that will eventually guide us to where we meant to be.
The final speech of the commencement was conducted by PKU president Lin Jianhua. He quoted the most recent international events to show that the development of the internet and changes in social connections has greatly influenced events on this planet more than it ever had done. The advance of information technology has bring us convenience as well as troubles. We should be fully aware of what changes are happening around us, and cherish both new ideas and traditional heritages. According to Lin, a university can no longer monopolize knowledge in the information age, however, what a university stands for, i.e. the rational thinking of the mankind, has become more important and indispensable. He wishes all graduates can value this spirit of human wisdom and carry it life-long.
PKU president Lin Jianhua
In the degree ceremony, mentors awarded the graduates with their proper degrees.
Degrees obtained


Written by:
Choisum Kwok
Edited by: Zhang Jiang
Source: PKU News