Peking University Cycling Association organizes the 15th National Bicycle Race of Universities
MAY . 15 2017
Peking University, May 14:
From May 6 to 7, 2017, the 15th National Bicycle Race of Universities organized by Peking University Cycling Association was successfully held in Yongding River Cycling Park. This was the largest cycling event organized by bicycle associations and organizations of colleges in China, which attracted more than 1,000 players from 18 provinces.
At 9:30 am, May 6, cycling teams of colleges started from the north square of Peking University Gymnasium and marched towards Yongding River Cycling Park. At the same time, staff of PKU Cycling Association made the venues for the bicyle race well-arranged.

Group picture of players from different universities
The first day saw an evening party, which was held for communication and characterized by pluralism. Members of bike associations gave various performances and shared with the audience their colorful experience. PKU Cycling Association declared that they planed to organize more activities in the next year when Peking University would embrace its 120th anniversary. The party brought an auditory and visual feast to the audience.

The president of PKU Biking Club is delivering a speech
At 9:30 am on May 7, the bicycle race began officially. 404 players attended the competition for male amateurs, which lasted for two and a half hours. The first place was won by Liaoning Technical University.
Later in the mountain race for male professionals, a player from Beijing Institute of Economic and Management won the first place. And in the same race for females, PKU Cycling Association, the host of the race, won the fifth place.

Players in the mountain race for male professionals
Around 2:40 pm, the road race, the climax of the game, finally began. 87 players would ride around the track for 50 kilometers. In the last but two circles, two players from Peking University successfully broke into the first echelon. But the champion turned out to be Hong Chongda, a player from Beijing University of Technology. PKU player Feng Xinlin won the second place by one second.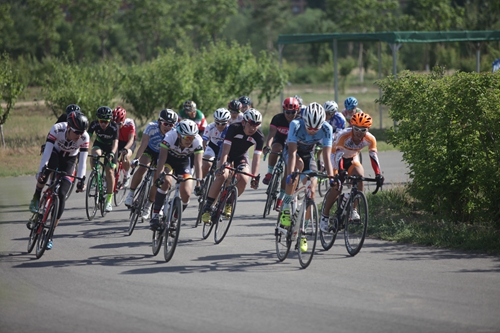 Players in the road race
At 5:30 pm, the staff of PKU Cycling Association finished all the work. From May 5 to 7, more than 70 staff and 20 volunteers from different colleges and universities worked hard in the venues of the race, making great contribution to the success of the whole event.
Group picture of staff of PKU Biking Club
2018 will see both the 16th anniversary of National Bicycle Race of Colleges and the 120th anniversary of Peking University. Therefore, PKU Cycling Association will organize more activities concerning the two events, such as inviting 1200 players from 120 universities to attend the bicycle race.